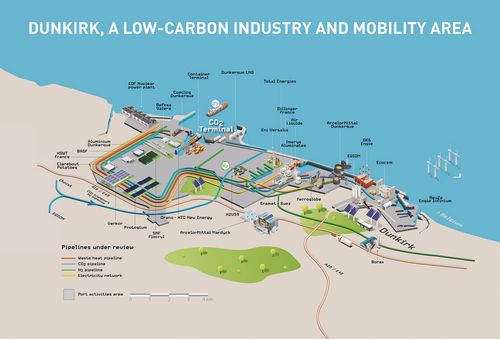 DUNKIRK IS ABOUT TO BECOME THE FIRST HYDROGEN HUB IN FRANCE.
Dunkirk is home to the low carbon hydrogen production sector.
Today, the territory is deemed the vital link in the development of the French hydrogen sector, since on the industrial-port platform we find:
Industrialists seeking decarbonisation solutions
Co-product resources that can be recovered
Simple and safe access to low carbon energy
Existing high-quality infrastructures and ambitious upcoming projects designed to host the H2 sector.
Find out how Dunkirk has become France's first hydrogen hub!
150 KT
per year of green hydrogen will be necessary to decarbonise Dunkirk's industry
13.7 MT
per year of CO2 emissions will be avoided by 2050 thanks to the roll-out of CO2 and H2 Hubs in Dunkirk
3 BN
euro investment will be required to decarbonise the Dunkirk industrial basin between 2021 and 2030
+ 10,000
jobs will be created because of the decarbonisation of processes and the H2 sector roll-out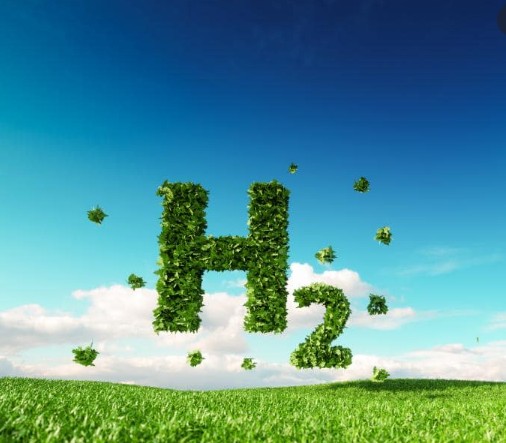 DISCOVER SOME OF DUNKIRK'S CURRENT AND UPCOMING H2 SECTOR PROJECTS
Green H2 production – H2V59
The H2V59 hydrogen production site located in Loon-Plage will produce almost 28,000 tonnes of renewable hydrogen per year by 2024-2025 thanks to the electrolysis of water. This will represent almost 3% of French production and will help avoid the annual emission of 280,000 tonnes of CO2, or the equivalent of 160,000 cars. An extension is planned by 2028.
Direct Reduced Iron Project: ArcelorMittal
ArcelorMittal will produce low-carbon steel on its Dunkirk site by combining DRI and submerged arc furnace technologies. AirLiquide will provide support and expertise by supplying massive amounts of low-carbon hydrogen and rolling out CO2 capture technologies on site.
ENGIE and Infinium, a company specialising in ultra-low-carbon fuel technologies, have entered into a partnership to produce synthetic fuels from the recovered CO2 emitted by ArcelorMittal in Dunkirk. This partnership will enable 300,000 tonnes of CO2 to be captured on the ArcelorMittal site. Combined with the green hydrogen produced by a 400 MW electrolyser installed by ENGIE, the company will be able to produce fuel for sectors that are difficult to decarbonise, such as air and sea transport. Production is due to begin in 2026.
The D'Artagnan project involves rolling out a full Carbon Capture and Sequestration (CCS) chain which will connect Dunkirk's main industrial emitters and its hinterland to CO2 storage areas being developed in the North Sea for permanent CO2 sequestration.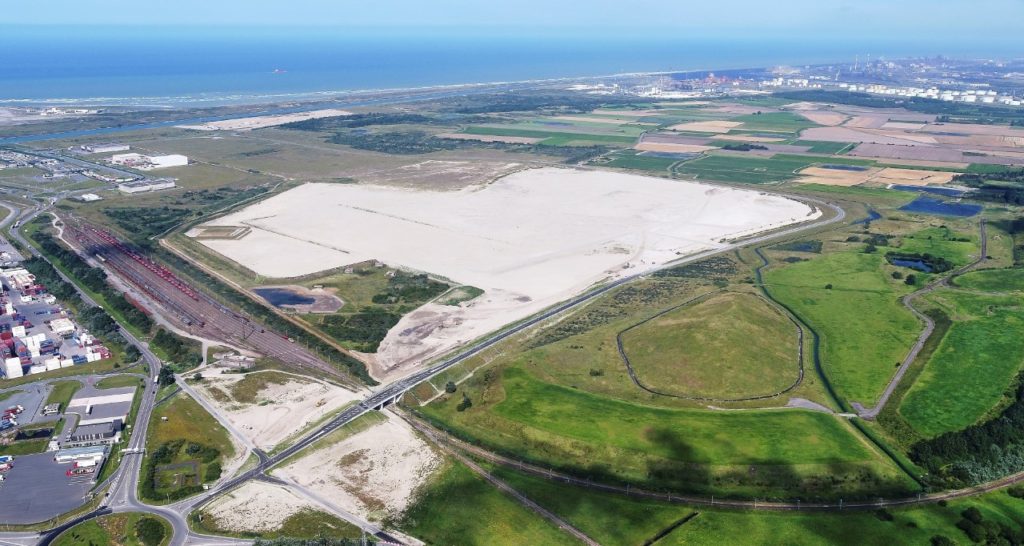 DUNKIRK, A TURNKEY TERRITORY TO HOST THE HYDROGEN SECTOR
Accredited as a "Choose France" Turnkey Industrial Territory because of its simplified and accelerated processes, Dunkirk is the ideal territory for your hydrogen-related decarbonisation projects.
Suitable property offers:
Located on port land holdings, the Major Industries Area (ZGI) is a 125-hectare "Choose France" turnkey site. Already up and running, it is intended for large industrial projects. The Major Industries Area (ZGI) is located in the immediate vicinity of the drinking and industrial water networks, gas network and fibre optic network and has exceptional electricity connection capacities. The Grand Port Maritime of Dunkirk is getting ready for the territory's energy transition by developing new activity areas dedicated to decarbonisation by preparing the networks linked to future needs (hydrogen, water and electricity). Dunkirk Port is currently working on the eastward extension of this activity area, which will eventually double its surface area.
Another "turnkey" certified site, Dunkirk International Logistics (DLI) is a space intended for logistics and port activities. It is also an asset for companies seeking simplified management of the hydrogen sector supply chain, too.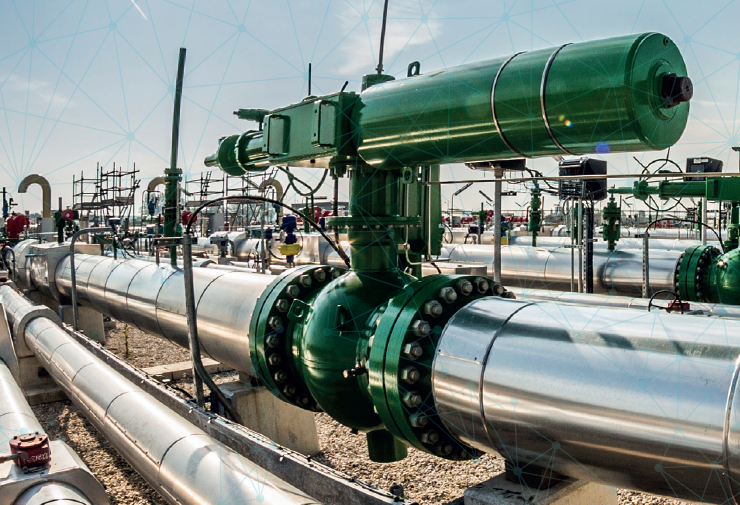 IMPORTANT AND ACCESSIBLE NETWORKS
For years now, Dunkirk has been preparing to welcome projects related to industry decarbonisation. And today, the infrastructures are ready:
A very high voltage network spanning 8.700 km, Dunkirk has a powerful and reliable electric network ready to meet the needs of decarbonised H2 production.
The LNG terminal facilities (2nd largest in Europe), the pipeline system connected to the Air Liquide site and the gas distribution networks are also well developed.
Industrial water networks and the heat superhighway
A buoyant market
Industrialists here have estimated that their low carbon hydrogen requirements to decarbonise their industrial processes will be 150 KT per year by 2028. The immediate sale of the green hydrogen produced on site is thus guaranteed.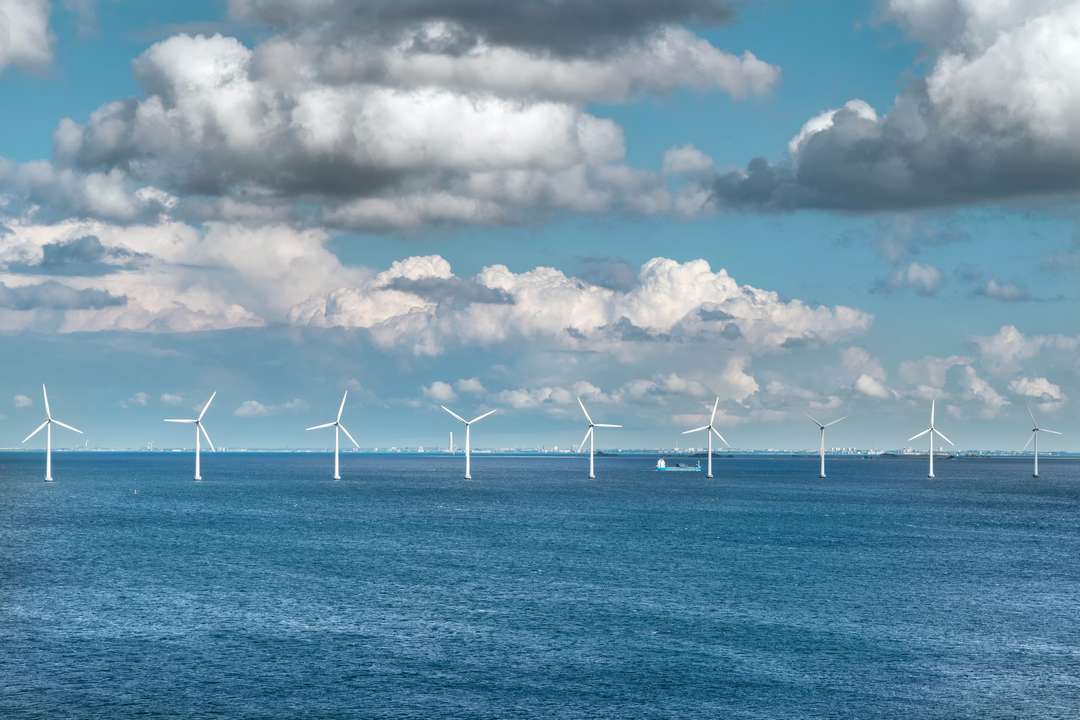 ACCESS TO LOW CARBON ENERGY
The Dunkirk region strengthens its status as a major European energy platform with:
Gravelines Nuclear Power Station, Europe's most important power plant, produced 29.8 TWh of electricity without emitting any CO2 in 2021.
A solar park located in the port area that will provide 40 MW from 2023.
An offshore windfarm off the coast of Dunkirk with a 600 MW capacity by 2027.
OUR TEAM WILL HELP YOU FIND THE BEST ANSWERS TO YOUR NEEDS.